Projector remote controls
Finding a company who can supply all the projector remotes needed at an acceptable price has always been a difficult and time-consuming problem. At least until now. This area of our site is dedicated to offering cost-effective replacements remotes for the Data Projectors used in Schools and Colleges.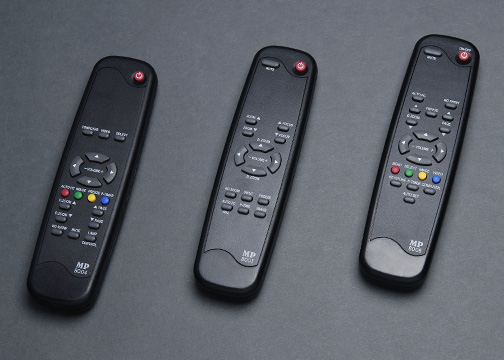 Some examples of replacement remotes for Sanyo projectors. Click image to enlarge
All brands
The list of brands that replacement remotes are available for, include: - 3M, Acer, Benq, Canon, Dell, Epson, Hewlett Packard, Hitachi, Infocus, Mitsubishi, Nec, Optoma, Panasonic, Plus, Philips, Promethean, Proxima, Sahara, Sanyo, Sharp, Sony, Taxan, Toshiba, Viewsonic, Vision.
Large Product Range
With more than 800 models/references listed presently and new models being added every week, we are able to supply replacement remotes for the vast majority of Data Projectors in use.
Product Performance
Same as the original remote.
Cost-saving Product Pricing
Although, dependant on the model and quantity required, the prices of our projector remotes are substantially cheaper than manufacturer's originals. The resultant savings in costs enjoyed by our Educational customers is typically 30% or more.
Product availability/delivery
Normally available for immediate shipment and all orders are shipped by 24 hour courrier service.
Placing an order
Placing an order is not a problem. We accept Education Purchase Orders and, a credit account is opened automatically for Education establishments such as, Schools, colleges and Universities. Alternatively, Projector remotes can be purchased directly "On-line" by selecting the "Search/Shop on-line" link below.
Quotations on request
To check individual product availability and pricing, telephone, fax or email us with Make and Model No of the projector, by selecting Contact Us. Alternatively, a list can be generated automatically by selecting the "Add to Quote list" option in the "Search/Shop on-line" product listings.
Projector Brackets and Spare Lamps
Projector "Brackets" and "Spare Lamps", at very competitive prices, are also available upon request. Just telephone, fax or email us with Make and Model No of the projector, by selecting Contact Us and receive a quotation by return.